Daughters Who Walk This Path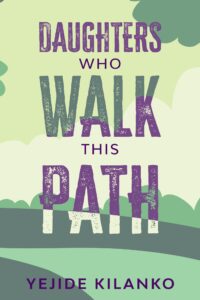 Book Description
Spirited and intelligent, Morayo grows up surrounded by school friends and family in Ibadan. There is Eniayo, her adoring little sister – for whose sake their middle-class parents fight stigmatising superstition – and a large extended family of cousins and aunts who sometimes make Morayo's home their own. A shameful secret forced upon her by Bros T, her cousin, thrusts Morayo into a web of oppressive silence woven by the adults around her. Morayo must learn to fiercely protect herself and her sister as young women growing up in a complex and politically charged country.
Praise for Daughters Who Walk This Path
Daughters Who Walk This Path is a subtle yet complex exploration of what it means to be a young woman growing up in contemporary Nigeria. Kilanko does not shy away from tough subjects. Just as importantly, she does not sensationalize them. This is a delightful, haunting book from a very talented writer.
Chika Unigwe, award-winning author of On Black Sisters' Street.
Though the subject of her novel is one that'll typically make us avert our eyes, Yejide Kilanko combines an unflinching gaze, a tender heart and a gift for lyrical storytelling. Daughters Who Walk This Path is a necessary book.
E.C.Osondu, Winner of the Caine Prize and author Voice of America 
The lives of girls and women continue to be fraught with secrets, shame and violence. Yejide Kilanko 's courageous characters reveal how young women bear their coming-of-age, and then they learn to tell.
Kim Echlin, Giller-nominated author of The Disappeared
Book Trailer
Book Reading