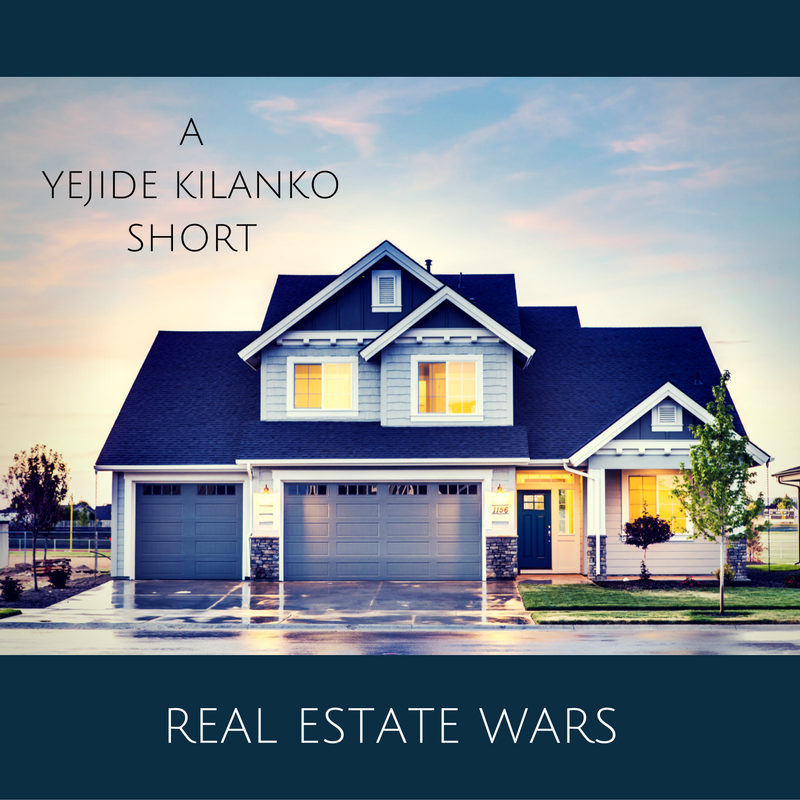 Coco Davies adjusted the lenses of her pedestal mounted, military-style binoculars as she surveyed Elm Street through sheer window curtains.
Until the real estate season began things were manageable on the east-end Toronto cul-de-sac. They had the standard-issue nosey neighbors, loud children playing in the street past a decent time, runaway garbage cans, the usual annoying stuff.
The corners of her mouth turned down when she saw another set of potential buyers leave the house across the street. Even though their rust-covered car made her doubt they could afford her home, they should have stopped by for a viewing. Serious buyers kept their options open.
Things had started out civil between Coco and her house-selling neighbours. She'd managed to choke down her annoyance when their 'for sale by owner' sign appeared days after she'd mentioned to them that they were putting their house on the market. One would have thought it was the perfect time for them to announce their intention to sell.
Confident her house would be the first to showcase a sold sign; Coco spent some money on improving the curb appeal. The new sod made the lawn pop. Three days later Coco's screams were heard all the way down Elm Street when she woke up and found burn patches on her beautiful green grass. She was sure someone had dumped some chemical all over it. Her simple husband Freddy said the wind probably blew something toxic their way. She'd wished the wind would blow him away for a couple of days.
Then during Coco's first open house, the neighbors had set up a lemonade stand. Who could resist a cold drink served with a home sale flyer by two adorable girls in matching lace dresses and red bows? Their smiling parents had the gall to wave at her.
The lemonade stand set-up was an apparent act of war. Coco had turned her craft room into a war room and bought the binoculars on eBay. Desperate times called for the right equipment.
Coco moved away from the window. She sat at her sewing table and rolled out her action plan template. After Coco had studied the plan, she scrunched it up. She would burn it in the downstairs fireplace. Minutes later, she walked out of the room and closed the door behind her.
***
"Where have you been?" Freddy asked as she walked into the master bedroom. Seated in his recliner, he had an open book in his hand.
"In the house," Coco said as she strolled over to the closet for a change of clothes. She had some shopping to do.
Freddy shook his head. "You were spying on the neighbours."
Coco turned her back. She and Freddy differed on how to handle the current situation. He was mortified when he found out she had sent her well-meaning Aunt Cathy over during the neighbors' open house. She'd just wanted to know what the inside looked like. The report Coco got was that her house had a better layout. It was cleaner, too. With all the energy that woman spent on running through the neighborhood in bum shorts, no surprise there.
She took off all her jewellery pieces before pulling out a pair of black pants and turtleneck sweater from the closet. It was best not to leave an impression on anyone at the store.
Freddy's voice interrupted her thoughts. "Your behavior's getting out of hand. I'm pretty sure everything was coincidental."
Coco rolled her eyes. She'd watched enough crime television shows to know better. "Right."
Freddy gave her a suspicious look. "Coco, what are you planning?"
She tucked her poofy hair under an old baseball hat. "I'm just taking a little trip. I should be back before supper time. If you're hungry, the casserole's the oven; you can start without me."
"Coco." Freddy's deep voice had a warning tone.
"The less you know, the better. You wouldn't last long in prison. Not with those shapely hips."
His eyebrows flew up. "Coco!"
She chuckled as she headed downstairs. Oh, Freddy.
***
Inside her SUV Coco punched in the address for the out-of-town Goodwill store before playing some mortal gladiator music as part of her mental preparation. Everyone knew wars began in the mind.
An hour later, she stood in the men's shoe aisle and surveyed shelves stacked with gumboots. The overnight rain had left a soaking wet ground, and she was sure to leave behind some footprints.
She tried on a couple of gumboots before she decided on a size eleven. Her Freddy wore a size ten. She didn't want any fingers pointed in his direction. Coco was sure the neighbor on their right wore size eleven shoes. He'd ended up on her list of people who needed to be taught a lesson after the dark stain he'd used on his side of the fence bled through and messed up her clear stain. His sorry was the most insincere she'd ever heard. It would be a delight to kill two annoying birds with one useful stone.
Coco walked over to the gardening aisle and picked up a pair of garden gloves and a shovel. At the counter, she kept her face lowered as she paid cash. Part one of the mission accomplished.
Back at the house, the rest of the day dragged by as Coco waited for nightfall. At suppertime, she served Freddy a generous portion of potatoes and roast pork. Coco opened a bottle of his favorite red wine to top it off. At ten pm, Freddy thought it was a good idea when she suggested they turn in for the night. He could barely keep his eyes open.
A few minutes after midnight, Coco scooted off the bed. Freddy didn't move. She changed back into her dark clothing before she headed downstairs. The rest of her things were stashed in the garage.
She wore four pairs of thick wool socks before her size six feet would stay inside the gumboots. After she'd pulled on a black toque to cover her hair, she wore the garden gloves, picked up her shovel and headed out through the side door.
The starless sky made it the perfect night for shady business. Thankful the dim yellow haze from the streetlights posed little threat; she looked both ways before dashing across the empty street.
Coco bent low as she headed for the sign that had been taunting her. Weeks earlier if someone had told she would even think of stealing the neighbor's lawn sign, she would have laughed in that person's face. But they started it.
Her fingers gripped the shovel handle. It should be a quick operation. As she stepped forward, a tingling sensation ran through her. What in the world? Coco moved closer only to experience some numbness as the electric current went through her. The shovel fell from her hand.
When she could move, Coco began to shake. What kind of person installs an invisible electric fence around a sign?
Coco gritted her teeth as she yanked the stake out of the ground. She ended up on the ground with the wooden sign clutched to her chest. Her mother didn't raise a weakling.
She froze at the sound of footsteps. Blinded by the flashlight shone in her face, Coco wondered if a not guilty by reason of sleepwalking defense would hold up in court. She closed her eyes and began to snore.
"Coco!"
Coco opened her eyes and saw Freddy's disappointed face. He wouldn't eat a stolen cookie. Not even if it were strapped down to his tongue.
She ignored Freddy's outstretched hand as she scampered to her feet. He was still in his pajamas. "What are you doing here?"
"I got up to pee and couldn't find you."
Darn it. Coco tossed the sign to the ground. "Let's go."
As she hurried towards the road, the next sound she heard was Freddy's scream. She looked back and saw that he'd tried to put the sign back.
Freddy staggered before he dropped to the ground. The man had zero tolerance for pain.
For a fleeting moment, Coco thought about going back for him. He was trying to help her.
The neighbor's dog began to bark as their floodlights came on. She dashed across the road. There was no point in both of them being arrested.
Coco did a quick assessment. With his goody-two-shoes trait, she had no doubt Freddy would sing like a canary. She should be able to stash her gear in the attic, take a shower and put on her herbal facial mask before the police arrived at their door.
With the Bee Gees' song "Stayin' Alive" playing in her head, Coco took off the gumboots and darted into the house.
***
Do you want of Coco and Freddy? There's a part two to this story. Read it at https://yejidekilanko.com/touchdown-turkey/  Part three is available here https://yejidekilanko.com/five-star-loving/