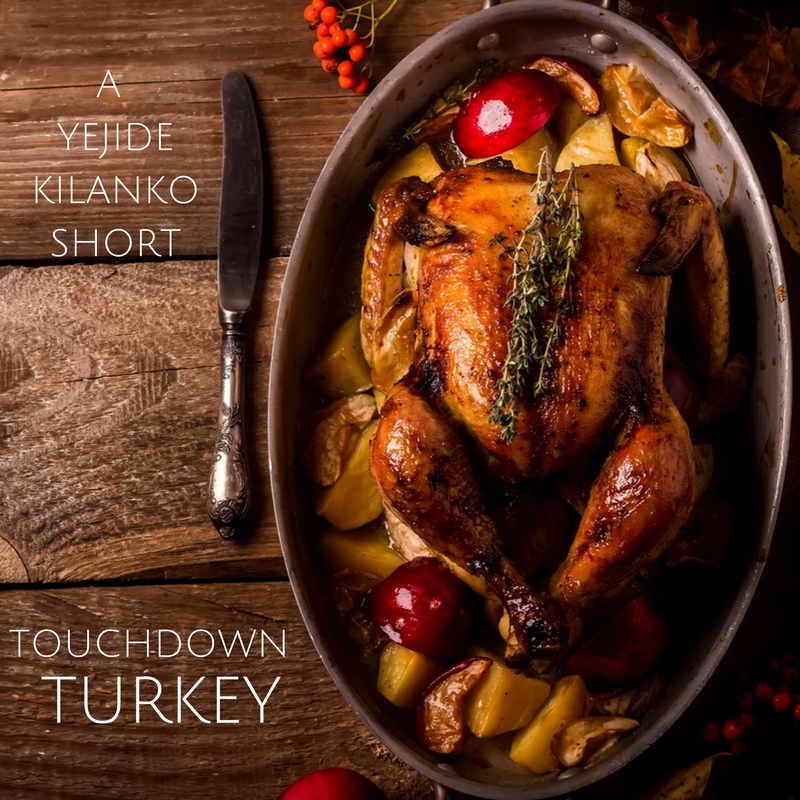 Seated at his desk, Freddy looked up at the crackle from the PA system. He hoped it was the announcement he'd been waiting for.
Dinah's cheery voice filled the room. "Ho Ho Ho. If you got tickets for the Extra Merry Christmas Bonanza please come down to the front meeting room. Draws start in ten minutes."
The seats were all taken when he arrived so Freddy stood at the back and leaned against the wall. All he wanted was the 432-Piece Mechanics Tool Set.
The chattering in the room rose when Dinah moved on to the romance getaway package. "I know you guys have been waiting on this," she said as she dipped her hand in the bucket which held the other halves of their tickets.
He swung his gaze back to the tool set displayed on the prize table. Come to Papa.
Dinah held up the winning ticket. "And the fantastic Romance Getaway Package goes to Freddy Davies!"
The word was out of Freddy's mouth before he could stop himself. "Crap!"
The next thing he heard was the noise of chair legs scrapping on the ceramic tile floor as half the room turned to look at him. Freddy lowered his head. Double crap. He'd just ruined the low profile he kept at work.
Later in the afternoon his work buddy Tom cornered him in the men's bathroom. "What was that all about?" he asked.
He just couldn't seem to get anything he wanted. Freddy turned on the tap. "I had my eyes on the tool set."
"You would pick that over a free five-star resort stay?"
Since it meant he had to be in close quarters with his wife Coco, the answer was yes. Freddie forced a smile. He was a firm believer in the separation of home and office affairs. "You know I don't get out much."
Tom patted him on the shoulder. "Leaving home once in a while won't hurt."
He tore off a piece of paper towel and dried his hands. "I'll work on it."
At exactly five o'clock, Freddy logged out of his computer and headed home. The overcast skies complemented his mood. Even though Elm Street had a festive vibe with Christmas lights and outdoor dancing reindeer, he wanted to be somewhere else.
The new neighbours were standing on their front porch when Freddy drove by their home. He no longer bothered to wave. His friendly waves and hellos were treated with the same caution one exercised around a strange dog. The old owners must have told the newbies about the restraining order taken out against him after Coco had tried to steal their 'for sale by owner' lawn sign. She left him holding the bag. He was lucky that the police officer had let him off with a stern warning.
Freddy parked on the single driveway and pressed on the remote garage door opener before he stepped out of his car. In the garage, he stopped and ran his fingers across the body of the metallic gold 1958 Cadillac Sedan de Ville.
His parents bought the car the year he was born. Dad had said it was the second greatest year of his life. The first was the year he'd met Freddy's mom.
Freddy sighed. This was why he'd wanted the tool set. His plan was to restore the car so he could take his mother on a short road trip. Time was running out.
"Freddy, is that you?" Coco asked after he had unlocked the door leading from the garage to the house and walked in.
Who else could it be? Silent, he hung his jacket on the entryway hook and walked towards the dining room.
Coco was in the middle of arranging Christmas cookie tins filled with her delicious coconut macaroons and shortbread cookies into a cardboard box. They were gifts for the staff at his mother's nursing home. She gave him a hesitant smile. "Hey."
Freddy dropped his keys on the table. "Hey."
"Are we leaving now or are you going to grab something to eat first?"
They had talked about going to see his mother. After seeing the new neighbours he no longer wanted to go anywhere with her. "I'll eat when I get back."
"You don't want me to come along?" she asked.
He shook his head. "It's not necessary."
Coco frowned. "Why?"
Freddy worked his jaw as he stared at Coco's wan face. He still remembered the searing pain as the neighbour's dog bit him in the buttock. The shame he'd felt as the news about the incident made it around Elm Street.
The plan was to sell their current home and then buy a one-level ranch they could safety-proof before moving his mother in. A robust 78-year-old, she had a rare form of Alzheimer's disease. When the house sat on the market without any offers, he had to change their plans.
He walked past her. "I don't feel like talking."
"Freddy, who else do I have to talk to?"
Her soft tone stopped him. For eighteen years it'd just been the two of them, Simple Freddy and his Crazy Coco.
"You think this is easy for me? I told you to let things go. That our house would sell at the right time. But, no. Coco had to do what Coco wanted."
Coco lowered her gaze. "I should have listened to you. I'm sorry."
Freddy took a deep breath. The stress of the past six months had changed them. It had mellowed Coco and turned him into a man who was angry most of the time. While he could forgive the permanent scar on his buttock, he could never recoup the time he should have spent with his mother.
He turned away. "I'll tell Mom you said hello. I'm sure you still have some baking to do."
***
Jelena, a staff at the nursing home, greeted Freddy like a long-lost relative. She was one of those bubbly people whose smile felt like a hug.
He dropped the box of treats on her table. "My wife did some Christmas baking," he said.
"Thanks. We love free food."
Freddy grinned. "How's my mom?"
"Fine. She's in her apartment. Our volunteer beautician treated her to a makeover day."
The words warmed his heart. "I'll see you on my way out."
Jelena nodded. "Sounds good."
As Freddy walked down the empty hallway he remembered the day they brought Mom to the home. She'd begged him not to leave her there. Desperate, he'd lied that it was just a temporary stay. She would could home after a couple of weeks. The lie haunted him every time he visited.
After several unanswered knocks, Freddy unlocked the door with his key and walked into a mini studio apartment with dandelion-yellow walls. He was grateful when the management allowed him to re-paint the room in Mom's favourite colour. With the limited space, she had to leave so many things behind.
The only sound in the room came from the stereo player on Mom's nightstand. She always had the radio on. The music kept her calm.
Mom was asleep. Freddy took short steps as he approached the bed. Dressed in a floral house gown, her coiffed grey hair looked as if it was held in place by some sort of sparkly gel. Her eyeshadow and nail polish were done in shades of purple and maroon, the colours of his father's university football team.
He took in the gentle rise and fall of her chest. When she was awake, it was hard to predict her mood. There were no-filter days when she said the most shocking things, times when she hid things from the staff or periods when she just cried for no reason.
Freddy stood by the bed and tapped her arm. "Mom."
Her burgundy-coloured lips curved into a smile before she opened her eyes. "Freddy."
The sound of his name brought tears to his eyes. On some days she didn't know who he was. And when he tried to hold her, she would stiffen her body as if she couldn't understand why a strange man held on to her as if his life depended on it.
"You look beautiful," he said.
Mom gave him a coy look. "Why, thank you, young man."
He helped her off the bed and they sat on her one couch. "How are you feeling?"
"I'm fine." She peered at his face. "You look so much like your father."
His new moustache had increased the similarity. "These dark brown eyes are all yours," he said.
Mom looked around. "Where is your father? Was he able to get us a turkey at the Power Supermarket Meat Sale?"
Freddy swallowed hard. The sole fatality in a massive sinkhole incident at the shopping mall, Dad had been gone seven years.
Pat Davies was a bargain hunter. He and Mom had often laughed about how his Dad would waste a tank of gas as he drove around town in a quest to save ten cents. "You know he always takes his time at the shops."
Mom nodded. "A penny saved is a penny earned," she said.
Freddy held her hand between his palms. Mom was a time traveller. While her life was often stuck in the past, the world had continued to turn. She wouldn't know that the penny had been phased out of circulation.
As he started at her face, a cherished memory came to Freddy's mind. He must have been around nine or ten years old when the old Power Supermarket on Toronto's Danforth Avenue had a giant Butterball turkey sale. Determined not to go home empty-handed, Dad had used his broad linebacker shoulders to push his way to the front of the line. Freddy watched with an opened mouth as he grabbed the frozen turkey and threw. The bird had sailed over Freddy's head and landed in his mother's cupped arms. After Mom held it up in a victory pose, she spliced it into the shopping cart and yelled touch down. His parents had looked at each other and laughed like they were the only two people on the frozen meat aisle.
Mom glanced at her wall clock. "It's getting late. When is your father coming home?"
Words were no longer enough to jog his mother's memory. She needed images. Every time he shared his father's funeral pictures, she went pale from the weight of her fresh grief. It was agonizing to watch her stroke the picture the photographer took as she stood alone by her husband's casket. Left to him, he wouldn't remind her. But the nursing home staff were adamant that she deserved to know. Even if it was for another fleeting moment.
He glanced at his wristwatch. "Well…"
"Your father isn't coming home?"
Mom seemed to have a rare look of clarity in her eyes. As if she knew the truth but needed someone else to say the words. "No, he isn't."
For a moment, her chin quavered as she stared at his face. "I'm sorry, Mom."
"We had a good life," she said in a factual tone.
Freddy had never doubted their love for him. "You gave me one, too."
Mom squeezed his hand. "We had to or the government would have taken you away," she said.
He shook his head. "Oh, Mom."
She turned towards the radio when  Whitney Houston's "My Love Is Your Love" began playing. "Freddy, that's your song."
It was. He and Coco had danced to the song at the lavish wedding reception paid for by their parents. Coco was a huge Whitney fan. "I did everything I could not to trip over Coco's shoes," he said.
Mom chuckled. "She was smart enough to stay out of your way when you did those rapper dance moves."
A few relatives had asked him if he was drunk. Freddie was a few months away from his fortieth birthday when Coco happened to him. It was the best way he could describe the way she came into his life and literally turned it upside down. She brought the excitement he needed.
"Why didn't Coco come with you?" Mom asked.
Coco and his mother could spend hours talking about nothing. "She had to do some baking for her Christmas dessert orders."
Mom had a faraway look in her eyes. "The day after you met Coco you came home and told me you've found the perfect girl for you. When I told your father the news he'd shouted Hallelujah."
Dad was glad because it meant Freddie had to move out of the family home. "It's funny the things you still remember," he said.
"I'm just grateful my bad memories get stolen, too," Mom said with a soft smile.
Freddy stared at their intertwined fingers. Gratitude. He had not thought about it that way. Yes, things had not gone as planned. But he still had the two most important people in his life. Coco was far from perfect. So was he. Quality time at the five-star resort might be the fresh start they needed.
He leaned forward and planted a kiss on her dry forehead. "I love you, Mom."
"I love you too, Pat."
[youtube https://www.youtube.com/watch?v=kxZD0VQvfqU?rel=0&controls=0&w=560&h=315]
Enjoyed reading? There is a part one to this story at https://yejidekilanko.com/real-estate-wars/   Part three, the final installment, is available here https://yejidekilanko.com/five-star-loving/