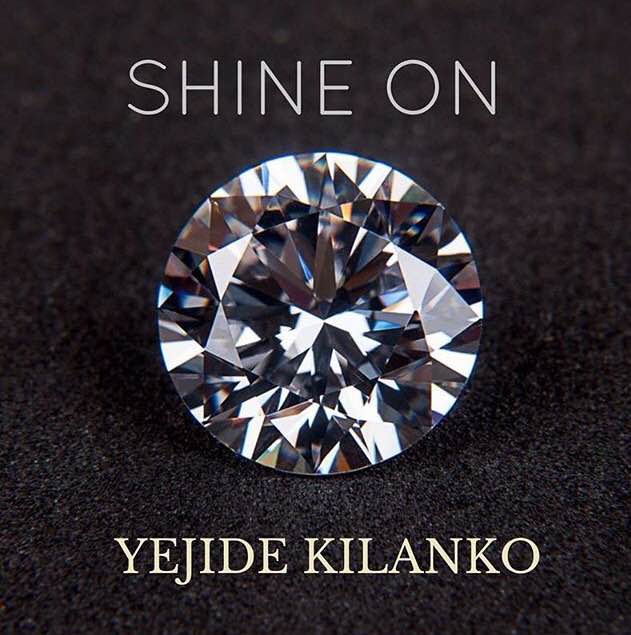 Seventeen years ago I left Ibadan, Nigeria, and moved to Laurel, Maryland. While I was happy to join my husband, about 8692 kilometers separated me from my first family. It made for a hard adjustment.
My thoughts often went to my maternal grandmother, Mrs. Olufunke Mary Adedipe. I called her Mama. As her oldest grandchild, we had a special bond. Even though she was of average height, to my eye, she towered over everyone. Her presence gave me the unspoken permission to misbehave. The ominous words "Mama would soon leave" curbed my excesses.
Mama never told me 'I love you.' She didn't need to. The live chickens sent to Ibadan on my birthdays, eloquent praise poems sung to me, those acts established that love needs more showing than telling.
Determined to hold her first grandchild, my mother visited us in Laurel. She brought a gift from Mama. It was one of her wrappers. The beige lace fabric which later held my daughter to my back came with my grandmother's scent. On the day it arrived, I sat with the wrapper, held it to my face and took several deep breaths. It was a boost of oxygen for my brain, coconut oil residue for an achy heart.
My first visit back home took place December 2005. By then we had evolved into the quintessential North American family of four. We had also moved to Canada.
Once again Mama made the journey to my parents' home in Ibadan. Like in the past, our reunion was beautiful. After I'd knelt before her, she wrapped arms around me and pulled me into the softness of her body. I laid my head on her chest and listened to the rhythmic beat of her heart as I inhaled a coconut fragrance. The oil made her cocoa coloured skin shine.
I saw that Mama was grayer, the wrinkles on her face deeper. She held my children who didn't understand a word of the Akure dialect she spoke to her chest. I realized I came back with the expectation people and places would remain unchanged. It was laughable since I had changed.
"Don't stay away for too long," Mama said to me before we parted ways.
I wanted to see her again. "I won't."
***
Time flew, our third child arrived. Because ends needed to meet, I went back to school. I began a demanding career.
The messages Mama sent through my mother were concise. "If Yejide wants to see me alive, she needs to come home now."
"Please tell her to wait for me," I'd begged.
"She's tired. She wants to go."
During those telephone conversations, I heard the urgency in my mother's voice. Mama's going soon.
Travelling to Nigeria wasn't as easy as scheduling vacation time and buying a plane ticket. Adult life had brought conflicting responsibilities, formidable circumstances beyond my control.
When the requests stopped, I assumed that Mama had given up on me. It was my fault since I'd failed to keep my promise. I wanted to redeem myself.
An opportunity came in the form of an invitation to the stellar AKE book festival. I was ecstatic. November 2014, I travelled to Nigeria.
The day after the book festival ended, I arrived at my parents' home. "We will go and see your Mama later today," my mother said to me minutes after I'd walked into the house.
I smiled at her. Middle-age beckoned with an enthusiastic shimmy, but I was still my grandmother's child.
Over the past year, my mother had made casual references to Mama's old age forgetfulness. A part of me had wondered if it was something more.
When we arrived at my uncle's house, Mama was in bed. The legs bowed from rickets could no longer carry her weight.
I knelt before Mama and said my greetings in a voice loud enough to accommodate her hearing loss.
"Your child came home," my mother said to her.
There was confusion in Mama's eyes. "My child?"
"Yejide."
Mama peered at my face. "You look like your father," she said.
I glanced at my mother. She remembered me!
"How is your husband? The children?" Mama asked.
"They're fine, Ma. They send their greetings."
Mama nodded.
Relieved, I took my seat.
The next time Mama spoke to me she called me by my mother's name. My mother corrected her in a soft voice. All evening, Mama sighed and wrung her hands when asked to say who I was.
Before we left, I asked my cousin to take pictures. Mama's body tensed as I curved an arm around her shoulders. The rejection shook me. I told myself it was an understandable response to a stranger's touch. My skin was slick with sweat as I held on to my illusion of a joyful reunion and smiled at the camera.
***
I returned to Canada.
Eight months later, I was in a departure lounge at the Barcelona–El Prat Airport. The news of my grandmother's transition came through a 'sorry for our loss' email sent by an aunt. Bad news has a way of tracking one down.
The previous afternoon, the day she died, I'd dreamt of Mama. It was not a nightmare. Still, I woke up feeling out of sorts, unable to immerse myself in the planned festivities.
In the midst of strangers, tears rolled down my cheeks. I wondered if Mama, whose physical body had never crossed the shores of Nigeria, had scanned the length of the Mediterranean Sea, and found me in the belly of a cruise ship. All because she'd wanted to say goodbye.
I was still crying when our plane landed in Toronto. My dear Mama, going, going, gone.
***
The other houses on the street had Christmas decorations.
During a phone conversation with my mother, I asked about my grandmother's health. There was silence on the other end of the line.
My mind screamed its disbelief. "You forgot that Mama died?"
Fingers clenched, I reply in a cocky inner voice. "It's protective amnesia."
My mother's loud sigh filled my ear. "Are you okay?"
I had thought I was. I also knew grief didn't have an end date.
I swallowed the instant yes. Because of all the things I had left unsaid, my mother no longer believed my hasty assurances.
"Are you still there?" she asked as the silence stretched.
We were both guilty of whitewashing our lives' serious issues. And we knew it. I was reluctant to inflict pain on her. Geographical distance interfered with the comfort of physical presence and touch.
Grief gave me a powerful punch. "I'll be fine."
***
I stare at the flakes of mud someone's shoes tracked into the house. This winter has brought more rain than snow.
"Mom."
I turn at the sound of my daughter's voice. "Yes?"
"I learned something new in science class," my daughter says to me. She goes on without waiting for a response. "A diamond sparkles because of its total internal reflection. Light enters the stone and reflects off the sides before it exits."
I tell her to grab a broom as I walk towards my computer. I still dream of a guest appearance on Jeopardy!. It will be a shame to lose good money because of limited diamond knowledge.
I find an article on Google. It states the contrast between the dark and light facets of a diamond intensifies its shine. Just like how bad experiences make us appreciate the good ones.
As I share this information with my daughter, she tilts her head to the side, and pushes cobalt blue frames up the bridge of her nose. "Cool," she says.
I stare at her round face. She represents the fourth generation of firstborn girls. Mama led the way. I exhale. "It sure is."