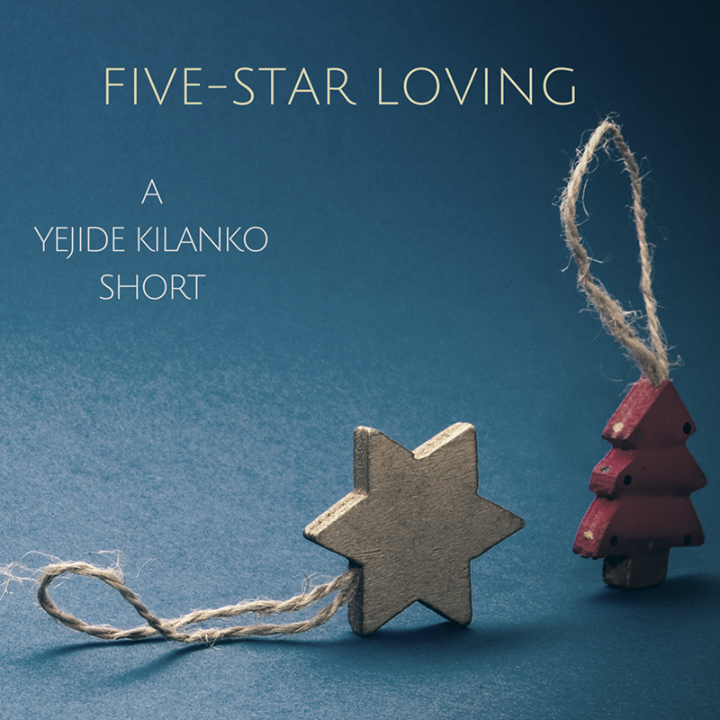 Coco Davies leaned against the island as she arranged her last batch of freshly baked cookies and macaroons on a disposable serving tray. Through her kitchen window, she saw snowflakes floating down. She'd always thought if she were a snowflake, her ice crystals would be colour washed with a glitter glaze.
She tore off a length of cling film and covered the treats. Her Freddy would be the one reliable flake you could count on to give you a magical, childlike feeling after it lands right on the tip of your tongue.
Over the past six months, it had felt like she was living with a stranger. When the dog took a bite out of Freddy's buttock, it had also bitten out his love for her. And despite her best efforts, her heart would not catch up with the scary reality.
Coco left the kitchen and wandered into the living room. She should have followed Freddy in her car. She had wanted to see her mother-in-law.
Through the sheer blinds, Coco watched as their new front neighbours unloaded groceries from their car. An idea came to her. If she got the newbies to see Freddy in a different light, and they warmly responded to his greetings, he might stop being grouchy. Sugar made people happy. She would take them a cookie tray. Energized by her thoughts, Coco went upstairs and took a quick shower.
Head held high; Coco walked across Elm Street. With each step, the flimsy serving tray grew heavier. Out in the open air, her brilliant idea seemed flawed. The last thing they needed was another call to the police.
As she thought of turning back, the next door neighbour, smirkface, stepped out of his front door. Coco felt his eyes zone in on her. Crap!
She straightened her shoulders and walked towards the neighbour's front door. Her mother had not raised a coward.
The neighbour woman answered the doorbell.
Coco flashed her whitened teeth. "Hi. I'm Coco Davies. I live in No.10."
The woman took a step back and yelled over her shoulder. "Mike, she's here!"
Coco heard a man's voice. "Who?" he asked.
"The better half of the crazy neighbour." The woman turned and gave Coco an apologetic look. "It's the quickest explanation."
"Coming!" Mike said.
The thudding footsteps made Coco bit her lip. She should have stayed at home.
"Nice to meet you," Mike said when he joined them. He and his wife wore matching Christmas sweaters. They were that kind of couple.
"The old owners left a warning note about your husband," Kim said in a conspiratorial tone.
Coco's jaw went slack. "They did?"
"I appreciated the accompanying bottle of wine," Mike said. "It was a good year too."
Kim looked in the direction of the Davies home. "I hope your husband wouldn't be mad you visited us?"
Freddy's sullen face flashed before her eyes. "I came to confess," she said.
Mike and Kim didn't interrupt while she told them a condensed version of the lawn sign theft fiasco. "My husband was only protecting me," Coco said at the end.
"Are you moving soon?" Mike asked.
Coco was sure Freddy still wanted his mother to live with them. "Well…" her voice trailed off.
"I give you my word. We will not list our house whenever you put yours' back on the market," Kim said with a raised hand.
"It no longer matters." Coco held out the tray. "I hope you like treats?"
"Are they safe to eat?" Kim asked with a half-smile.
Coco felt her face flush. "I deserved that question," she said.
Mike took the tray from her. "Thank you. We love cookies."
The couple exchanged a look. "It's good practice to be friendly with the neighbours," Mike said. "What are you doing on Boxing Day? We're throwing our annual White Elephant Bingo party. We'll love to have you guys over."
She and Freddy were yet to discuss Christmas plans. "I'll have to check in with my husband."
"You know how to reach us," Kim said.
***
Back at home, Coco went straight to the kitchen and made herself a Long Island Iced Tea. After pouring the drink from a shaker into a highball glass half-filled with ice, Coco topped it off with a splash of cola which gave the mixed drink its deceptive amber hue.
As Coco took a sip, she remembered how she and Freddy began to date. After a week of dance lessons at a Dominican Republic beach resort, Coco was convinced she had found her calling. Unhappy about coming back at work, she had walked into the deli with a leftover merengue twist to her slim hips and ran into an agitated Freddy.
That morning, Freddy had left his new camel trench coat on the freebie rack. Someone had helped themselves to the outerwear while Freddy was in the bathroom. Coco still could not understand how Freddy had missed the giant 'free' sign above the rack.
Later in the day, Freddy returned the coat Coco had borrowed from their head baker. The manager felt it was too cold for Freddy to leave without a warm layer. Freddy had also asked her out for drinks. With nothing on her calendar, Coco said yes. When she had ordered a Long Island Iced Tea, Freddy had done the same. Reluctant to say he didn't know it was an alcoholic drink, Freddy emptied his glass. She had to send him home in a cab.
The next morning, Freddy showed up with flowers and a sheepish expression. Coco sighed. Freddy still smiled like a little kid. Wide-eyed, wide-mouthed, all teeth. Seven years her senior, Coco had never dated anyone like him. At thirty-nine, Freddy was living with his parents. His mother shopped for his clothing. And he was content with not crossing the city limits. He had turned out to the best fit for her.
Coco was half-asleep by the time Freddy returned from the nursing home. She sat up at the grinding sound of the garage door opener.
Freddy walked into the living room and sat across from her. "Mom says hi," he said.
"I went to see the new neighbours."
Freddy looked like he was going to pass out. "Coco!"
"Relax. I only took them a tray of treats."
He gave her a suspicious look. "You handed over the tray to a friendly human being?"
Freddy made it sound as if she'd snuck into the home through an unsecured window. "Kim and Mike welcomed me in."
"They did?"
She didn't make past the foyer, but that was a technicality. "The old neighbours had left them a note about you," she said.
"Aha! I knew there was a reason for the Stink Eye."
"They invited us to a Boxing Day bingo party."
"Why?"
"Because I told them the true story," she said.
Freddy became still. "You did?" he asked after several minutes of staring at her face.
"Yes."
"We're not going to be around on Boxing Day," Freddy said when he broke their gaze.
"Where are we going?"
"To Muskoka. I won a romantic getaway package. It's a five-star resort."
"And you want to take me?"
"I didn't know I could explore other options," Freddy said with a soft smile.
Coco blinked. Did it mean things were back to normal? She was afraid to ask. "I had wanted to see your mom," she said.
"We'll stop by on our way out of the city."
***
On Christmas morning, Freddy's mom threw open her arms as soon as they walked into her room. "Coco! My goodness. I'm glad to see you. Freddy said you had run away with a Christmas baker."
Coco hugged her. "Merry Christmas, Mama. I had to come back. The baker's mother didn't have your gorgeous smile," she said.
Mama Davies kissed her on the cheek.
Freddy snorted. "Good to know you didn't come back for me," he said.
"Of course she did. Thank you for loving my son," Mama Davies said as she patted Coco's hand. "I used to worry he would have no one when we were gone."
The simply said words brought a wave of emotions. Coco held Mama Davies's gaze. "He's the love of my life."
"Just like my Pat."
Coco took a deep breath. Her late father-in-law was still a big part of their lives.
Mama Davies turned to her son. "During the wedding rehearsal dinner, your Aunt Margo told me she didn't understand how our Freddy who couldn't find his way out of a paper bag had ended up with a fruitcake."
Freddy turned red. "Mom!"
"I'm only saying what your aunt said."
"It was an insult to Coco."
Mama Davies looked distressed as she turned to her. "Honey, you do know I love fruitcake?"
Coco gave Mama Davies's hand a reassuring squeeze. "I know."
Mama Davies frowned. "I prefer the ones with dried fruit," she said. "Those candies runs my stomach."
Freddy placed an arm across his mother's shoulders. "Good thing Coco is all dried figs and raisins," he said a twinkle in his eyes.
She shot him an 'I'll get you later' look. "Next time, I'll bring you a fruitcake."
Mama Davies had tears in her eyes as she lifted Coco's hand and held it to her lips.
***
"Are you okay?" Freddy asked as Coco continued to stare at the tail lights of the cars ahead of them on the highway.
Coco glanced at him. The visit with her mother-in-law had brought back intense feelings of guilt. "I think we should put the house on the market," she said.
"No."
"But you wanted us to sell."
"We can no longer provide the kind of care my Mom needs," he said.
Coco agreed. "We'll get live-in help."
"Mom's settled in. She has made friends. Moving her now will be one more change."
"Are you sure?"
Freddy nodded.
Coco rested her head against the chair. "I'm sorry."
"I know you are. Let it go. I have."
Coco thought about the statement Mama Davies made. "You like people to think you're a simpleton, don't you?"
"I'm surprised it took you eighteen years to figure me out," Freddy said. "It meant fewer expectations from people."
"And more on me," she said.
"Since you like to be in control, to shock people, I thought you would enjoy hogging the spotlight."
On some days, self-imposed pressure about her performance was exhausting. "You're almost sixty. Is a simpleton label what you want?"
Freddy glanced at her. "It's all I know."
Coco closed her eyes. Somehow they'd become trapped in the narrative they had created for themselves. "I know I'm ready for a shift in our story."
She felt Freddy's fingers as he reached out and stroked her cheek. "We have all week to figure this out," he said.
***
Coco blinked as a snowflake settled on her eyelashes. She took in a deep breath, inhaling the crisp air. Around them, the snow came down in powdery sheets.
Freddy huffed as he pulled one of her suitcases out of the car. "I said to pack light. We're only here for a week."
"I don't recall those words," Coco said as she moved out of his way.
Freddy dropped the suitcase on the luggage cart. "I guess I have to start recording our conversations."
She shrugged. "I'll still contest the recordings."
"Of course you would," Freddy said.
After they'd settled in at the deluxe log cabin, Freddy started the wood burning fireplace. Coco brewed two mugs of hot chocolate with the Keurig machine. They even had individual packages of marshmallows and mini candy canes.
"Gift time," Coco said after they'd finished their drinks. She couldn't wait to see the surprise on Freddy's face.
His jaw dropped when she pulled out the 432-Piece Mechanics Tool Set from her suitcase. "No wonder your suitcase was heavy," he exclaimed with joy. "How did you know I wanted the set?"
"Tom called and told me about the hissy fit you threw at work. You should thank him for putting in gift request."
"I did not throw a hissy fit."
Coco winked. "Sure."
"You know this means I'm going to spend all winter working on the car?" Freddy said after he kissed her.
She knew how much Freddy wanted to take his mother out for a spin. "I'll be your willing Mechanic's Assistant."
"My turn," Freddy said as he handed her a silver gift bag. Coco opened the jewellery box. The thin silver chain had a diamond-encrusted loon pendant. When Freddy found out her last name was Loon, he had said it was a perfect fit.
"Deep down, I'm always going to be a Loon," Coco said as Freddy placed the chain around her neck.
"I know."
Freddy took her the hand, and they sat on the bed. "Do you remember our wedding vows?"
Their wedding ceremony took place at her parents' small town Lutheran church. "It has been a while," she said.
Freddy cleared his throat as he pulled out a piece of paper from his pants pocket. "I'm going to repeat them."
Coco gaped at him. Who was this Freddy? They had both agreed vow renewal ceremonies were an indulgence.
He held on to her hand. "I, Fredrick Banting, take you, Corrine May, to be my wife, and these things I promise you: I will be faithful to you and honest with you; I will respect, trust, help, and care for you; I will share my life with you; I will forgive you as we have been forgiven; and I will try with you better to understand ourselves, the world and God; through the best and worst of what is to come, and as long as we live."
Hearing the words again made Coco reconsider her earlier position. Perhaps the ceremonies served an important purpose.
"I've been neglecting the things I had vowed to do," Freddy said. "And I haven't done a lot of forgiving over the past six months."
"And I haven't been honest with you," Coco said in a small voice. There were many days when she wasn't even honest with herself.
"You had said you were ready for a shift?"
Coco nodded.
A cheeky smile played at the corner of Freddy's mouth. "While I'm transitioning from Simple Freddy to Flamboyant Freddy, I'll still need you to feed me generous portions of potatoes and roast pork before you go about your nefarious activities," he said.
He knew! "As you desire," Coco said with a grin.
Freddy pulled her close. "Since the weather outside is truly frightful and we've got no place to go, do I have your permission to heat this joint up?"
Coco wrapped her arms around Freddy's neck. There is the life one dreams of, and the life one gets. When your dreams and reality intertwine, that moment is a blessing. "Permission granted."
[youtube https://www.youtube.com/watch?v=DXMDWfLclNY&w=560&h=315]
***
Thanks for hanging out with Coco and Freddy.  I'm going to miss them. There is a part one to this story at https://yejidekilanko.com/real-estate-wars/   The second part can be read here: https://yejidekilanko.com/touchdown-turkey/